We are excited to announce that that new programs are coming to NRBTV!
Biblical Truths from the Gateway
Beginning Sunday, March 5 at 5:30 pm ET/ 4:30 pm CT, join us for Biblical Truths from the Gateway.
Tune in weekly as Pastor Bingham shares Bible preaching and teaching of God's inspired Word from Binghamtown Baptist Church.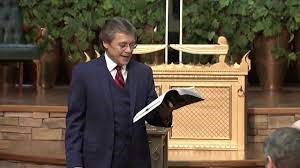 Focus Today
Starting Monday, March 6 at 4:30 pm ET/ 3:30 pm CT, make plans to join us for a new series, Focus Today.
An award-winning interview program, hosted by a veteran journalist Perry Atkinson, where no topic is off limits. Focus Today provides expert analysis and biblical perspective on what's happening in our world today, while helping our audience put things into focus.